It's that time of year again…time for our annual holiday giveaway! This year we're taking on the role of Sleep Santa with all of our sleep consultant elves working around the clock to help spread some sleepy time holiday cheer. Peeking into our big sack of sleepy prizes makes us really excited about helping even more families get the sleep they need this holiday season and into the new year. If you've been thinking of asking Santa for more sleep for the holidays, then you've come to the right place! We've got a holly jolly sleep filled giveaway launching today that also includes a $100 Amazon Gift Card because Santa knows just how much fun it is to to click and shop! Keep reading to see the full list of prizes. Get your entry in today so you can start dreaming of a sleep filled holiday.
Entries will be accepted today through Monday, December 10, 2018 11:59 pm ET. All prizes are available to entrants worldwide except Baby S.T.E.P.S. to Better Sleep which is available to U.S. entrants only.
$100 Gift Card to Amazon.com
This year's Grand Prize winner will receive an Amazon.com gift card worth $100. Order virtually anything quickly and easily online, using your Amazon gift card, and receive your shipment quickly.

One grand prize winner will receive a $100 Amazon Gift Card. The Amazon Gift Card grand prize is eligible to any entrant where Amazon is available.

Baby Shusher Collection The Baby Shusher is the only device on the market that has an actual human's voice recorded that "shushes" your baby. These long, rhythmic "shushes" mimic the sounds heard in utero and cut into the baby's crying cycle to calm him/her down. It's called the Sleep Miracle! The Gift Collection comes with two pacifiers, two swaddles, and the amazing Baby Shusher.
One winner will be selected to receive a Baby Shusher Gift Collection.

Other baby sleep books offer one-size-fits-all sleep coaching advice. It's their way or the highway! Not so with Baby S.T.E.P.S. to Better Sleep. This resource empowers parents with the tools and knowledge they need to gently coach their children to better nights and rested naps, in a way that fits their goals and parenting styles.
Baby S.T.E.P.S. to Better Sleep offers….
…a step-by-step approach to help parents create their own sleep coaching plans
…bedtime and nap time reference charts
…sample schedules
…a breakdown of recommended sleep coaching strategies by age, parenting type, and temperament
…a comprehensive look at how to sleep coach to better nights and naps
Two winners will each receive a hard copy of Baby S.T.E.P.S. to Better Sleep
What better way for Mom to pamper herself than to get more sleep! Your baby's sleep shouldn't be stressful and The Baby Sleep Site® strives to provide a strong, non-judgmental, support network to help you and your family sleep better. Our website has helped countless families through free online articles, step-by-step e-Books, and private and personalized sleep consulting services.
One winner will win the Basic E-mail Consultation Package to help with your sleep struggles. If you already have an account, your account will be credited.

The Express Sleep Plan® provides tired families just like yours with effective, customized sleep training help….and it provides it instantly. No waiting! Simply complete a brief questionnaire about your unique sleep history and challenges, submit your answers, and your plan will be available to download or print within just a few moments. It's that simple! With the Express Sleep Plan®, you don't have to wait days for a sleep plan; instead, you can get started as soon as you and your child are ready.
One winner will receive an Express Sleep Plan®. Recommended for families with healthy babies or toddlers age 4 months and older.

This book helps you design a step by step a sleep coaching plan that works for you and your family. It also includes a quick reference guide with age-specific sleep guidelines and sleep log for tracking your child's sleep patterns. Whether you are interested in co-sleeping, crying it out, setting schedules, night weaning or feeding at night, this e-book covers it all!
One winner will receive a copy of The 3-Step System to Help Your Baby Sleep e-book.

Our Members Area is a do-it-yourself sleep coach's dream come true! members of The Baby Sleep Site receive unlimited product access – read all our e-Books at no additional charge, access special members-only articles, enjoy a large library of recorded tele-seminars, browse our selection of case studies…it's like having your own sleep resource library! This is truly a resource that grows with your child. What's more, members enjoy weekly chats with expert sleep consultants (which provides the perfect chance to ask your pressing sleep questions and get answers from a pro). And the icing on the cake? Members receive 20% off all personalized consulting services!
One winner will receive a 6-month membership to The Baby Sleep Site®'s Members Area.

Understanding newborn sleep can be simple, as long as you keep one basic principle in mind: everything about a newborn is connected. Many factors influence a newborn's sleep, including feeding patterns, routines, temperament, and overall health. In Essential Keys to Your Newborn's Sleep, Baby Sleep Site® founder Nicole Johnson and sleep consultant Miriam Chickering discuss at length each factor that influences sleep. They also offer practical, hands-on tips about how you can influence some of these factors and set the stage for better newborn sleep, both now and throughout the first year. Nicole and Miriam also explain what to expect at each stage of growth, and how to cope with difficulties and challenges that will arise. Essential Keys to Your Newborn's Sleep is a complete toolkit of tips, advice, and sample schedules to help your baby establish healthy sleep habits today and throughout the first year.
One winner will receive an instant download of Essential Keys To Your Newborn's Sleep e-book.

If naps are a struggle or if you have questions about how much and how often your baby or toddler should be napping, then this is the book for you. This book covers how to help your child learn to nap longer, why naps are so important for nighttime sleep, how to break baby's dependence on you to fall asleep, how to help your early riser learn to sleep later, and includes over 40 sample schedules…plus much more!
One winner will receive an instant download of the Mastering Naps and Schedules e-Book.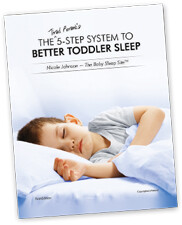 Many parents are surprised to learn that it is not that uncommon for a toddler to not be sleeping through the night or have other sleep related issues. With this toddler sleep book, you can learn how to get back in control with this comprehensive toddler sleep guide. This ebook includes a toolkit of strategies, sample schedules, and sleep logs will put your toddler on the right sleep track.
One winner will receive an instant download of The 5-Step System to Better Toddler Sleep e-book
Enter the giveaway using the widget below
Entries will be accepted through December 10th at 11:59 pm ET.
FREE REPORT
"Learn How To Improve Your Sleeping Patterns and Get Deeper Into Sleep"
Put your best email below to receive instant access to report now!